Facebook Ad Writing Training (Live)
Never Struggle to Find Ideas or Suffer from Writer's Block Again after Attending this 3 Hours Workshop.
FB Ad Copywriting Course Wait List
... And No! You DON'T have to be a Word Genius to Write Persuasive Ads.
Dear Business Owner,
Ever opened your Facebook ads account manager, set up a campaign, created an ad group, carefully and painstakingly select your interest targeting...
But by the time you finally start creating your first ad…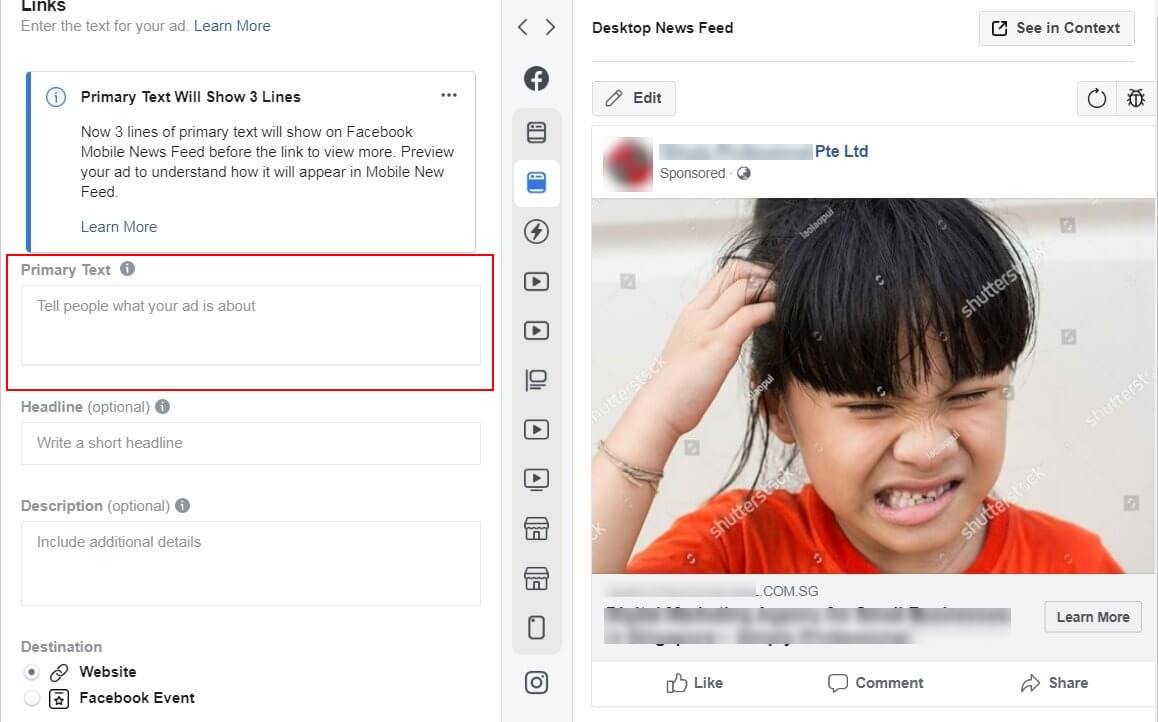 Blank!
Nothing comes to mind.
Okay, perhaps by some "luck" you managed to scrap some words together and poorly filled Facebook's Primary Text field.
But the words aren't attractive and quite frankly, looks dreadfully dull and boring.
You wouldn't dream of posting this onto your timeline… much less waste precious advertising dollars on a campaign you're not confident in.
Well, if this experience sounds painfully familiar, then cheer up as we've got fantastic news for you…
The Confidence to Write ALL Kinds of Facebook Ads
You see, learning to write a persuasive advertisement copy isn't difficult.
It shouldn't have to be.
In fact, if you've been running sales for your business (whether it is a product or service), then you have all the information you will ever need to get started.
But here's the thing...
Most of the people we spoke to lost their writing confidence because of some strange misconceptions they had in their heads. They thought persuasive ad copies meant:
Using

bombastic words

to sound impressive
Being an

expert in the English language

Sentence structure and grammar

has to be top-notch
The writer has to be very

creative
And because of these misconceptions, many never start. Since in their minds, they had already lost the war, without ever entering the battlefield.
But the truth is…
With the right strategy in place and with proper guidance, you too could quickly write a persuasive ad in under 2 hours.
Yes, you read that, right!
2 hours, perhaps a little bit more if it's your first time or while you're in a coaching environment… but after that, just a couple of hours every time or faster.
Let me explain…
A Systematic Approach to Copywriting
When you analyse sales presentations, debate arguments, presidential speeches, you may notice a couple of similarities common between all of them.
It's almost as if these individuals or their writers used the same "secret" to craft their winning content time and again.
If you've been in the advertising and marketing game long enough, you would definitely know…
Most writers rely on templates or formulas to structure and write their first draft.
It's literally Copy. Paste. Then Edit.
But this begs the question…
"Why are the results completely different when a beginner uses the exact same template?"
Same template. Different result.
Here's the kicker…
It took the pro a few minutes to copy, paste, and edit. But an unfamiliar business owner could take an entire day to edit that same paragraph. Possibly even longer.
And after a stressful hair-pulling episode, the copy is still No Good.
When all is said and done, we prefer NOT to focus on templates. That's why we don't charge for templates and happily publish a number of them on our blog for free.
Instead, we rather focus on the principles and psychological elements behind the templates and why they work so effectively.
It goes back to that famous saying…
"Give a man a fish or teach a man how to fish."
But to do so means…
Solving the 3 biggest mental challenges inexperienced writers struggle with.
Why Some People Constantly Struggle to Write
It's strangely surprising…
Almost every single one of us in Singapore underwent at least 10 years of formal education. We had to write compositions and long essays to receive a diploma or degree.
You would think writing is ingrained into every single one of us by now.
Yet, despite a significant part of our lives wearing out our limited wrist muscles… open a fresh Word doc and suddenly, our minds go completely blank.
Here's where it gets interesting…
After interviewing and asking clients, prospects and leads, we discovered it's not that they couldn't write... they had installed 3 negative self-limiting beliefs drastically hindering their chances of success.
Limiting Belief #1
"I can't find the right words"
You know what you to say or perhaps you have this vague idea in your mind.
But for some unexplainable reasons, you simply can't find the word you're looking for.
You could scour the internet, scrutinise the thesaurus, or even dig out your mum's dusty old dictionary, but it's useless. Every word just seems wrong.
Unknown to many business owners… they had been barking up the wrong tree.
One of the reasons why pro writers "magically" know exactly what to say isn't because they spend hours memorising the dictionary building up their vocabulary arsenal…
It's simply because they know what their audience is looking for.
Read on and I'll explain how in a bit.
Limiting Belief #2
"I lack creativity, I have no idea what to write about"
Then again, perhaps by a stroke of luck, you found the word or phrasing that best expresses that thought lingering at the back of your mind.
But that brings about another stumbling block…
How do you present this idea in an interesting and convincing manner?
Many people mistakenly believe that the secret to good writing is creativity and imagination.
If you were a Stephen King or a George R.R. Martin then yes I would agree with you.
But the truth is when it comes to any form of business writing (especially ads writing) creativity is the last thing you need.
Your audience is constantly telling you what to write about.
You just need to learn how to listen.
Limiting Belief #3
"My writing is boring and it gets worse after I edit it"
Finally, we've reached the biggest mental block…
After exhausting every last ounce of mental energy to put text to words, the copy still screams "boring" to anyone even willing to take a glance.
Yet, the more you read, and the more your edit, the worse it gets.
Such a bummer, isn't it?
Thankfully you don't have to become a word smith overnight as there is a simpler strategy to make your content highly engaging and interesting to your target audience. (The people who are going to whip their wallets out for you)
Sure, you could pick up a couple of advanced copywriting techniques to help make your content "flowery".
But it's absolutely not necessary when it comes to sales writing.
The best part?
With the right processes in place, you only need to edit once and you're ready to go.
Who Else Wants to Save Time Writing & Start Running PERSUASIVE ADS?
Look, you can continue to stare at your computer screen, but the words aren't going to piece themselves together magically.
By now you may have begun to realise the real "trick" the pros use isn't really about writing skills but rather… in knowing what to write or tell your target audience.
Because once you do, the ad copy instantly becomes way more persuasive.
Suddenly, the right words pop up, the story sells itself, and you find yourself with a blockbuster ad on hand.
The ideas begin to gush out so rapidly. You might need a plunger to stop and catch your breath.
Let us show you how…
Introducing… Facebook Ad Copywriting (Live)
Singapore's first ad writing group workshop where participants actually learn to write a Facebook ad within 3 hours.
FB Ad Copywriting Course Wait List
Discover the 3 common types of FB ads writing format and when to use them

Understand the psychology of sales writing and how that orchestrates the way your audience will behave as they read your copy – the goal is naturally to lead to a sale

How to quickly and rapidly generate content ideas for your ad writing on demand using this simple word game you can play anywhere

The difference between long form and short form sales copy

Why some ads convert like crazy while others only attract trolls, spams, and long lists of complaints from random strangers

The single most important question to answer before you even write a single word if you want to ensure a higher rate of success for your ads

A simple trick to make your writing snappier

How to leverage on the "Pantry Creep" technique to fill a list of specific words, phrases, and sentences your target audience are openly complaining about. (That's the reason why we don't have to scratch our heads thinking about which word to use)

Plus, a straight forward writing template that puts everything you learnt together into an ad copy you're confident of driving traffic to
We've specially prepared a 3-hours training and coaching program that sits business owners down in a room to learn the vital copywriting principles and most importantly…
Write their Facebook ad copy!
Here's a taste of the key principles we'll be covering when you come down:
What Makes Our Training AMAZING Compared to Everyone Else
Firstly, we need to emphasise that this is not a preview.
You're attending a paid training program with tons of practical exercises to get you writing your Facebook ad copy.
But over and beyond that, this program isn't another theory course designed by lecturers or ex-copywriters who no longer practice this craft.
Because at Manuscript, we're a copywriting agency that provides writing services for clients. Actual paying clients who pay our writers to help them with their writing demands.
We've had the opportunity to test our concepts before we present our findings to you.
We even dare to say that if you don't already have a business or a product to sell, then this training is not for you.
Because we've painstakingly revised and fine-tuned the materials. We want it to be useful and helpful for people who advertise or are planning to.
And most importantly... want to kick off every campaign on the right foot.
FB Ad Copywriting Course Wait List
Who Did We Design This Copywriting Course For?
And anyone considering Facebook for advertising purposes but struggling to write persuasive ads.
Our goal is to get you started on the right foot.
That said…
We have to emphasise that this training isn't about Facebook ads strategy or how to select the right interest targeting or some other Facebook marketing strategy. We're assuming you have already done this and most importantly, know who your primary target audience is.
Because this training (or rather coaching session) is about Facebook ad writing.
And that means getting our hands dirty and start writing copy.
Ad copies you can immediately use for your advertising and invest real dollars into a campaign.
Needless to say, that means a lot of hands-on practice and exercises.
So, by attending, you have to promise to be open to ideas, suggestions and most importantly, agree to follow the practical steps we're going to cover.
With your agreement, it brings us to the question that's been lingering on your mind…
How Much Should You Cheerfully Invest to Attend?
Frankly speaking, we're not running a charity organisation, and that means there is a cost involved when we organise any coaching program.
And furthermore, as this is not a preview but an actual half-day workshop, we're covering real copywriting tactics and strategies. Tactics and strategies, we deploy in our copywriting agency.
A fair rate to charge for such a program is to follow our marketing consultation rate of $250 per hourly session.
Which means a 3-hours session is valued at $750 for a private one-to-one.
But rather than do that and restrict attendance only to business owners who can afford a pricier program and probably don't need it… we decided to charge you only for the cost of your seat at the venue location plus a couple of other administrative expenses.
That means you only need to fork out $12 for a seat. About the price of a marketing book except you get all the benefits of a coaching session and someone to review and point out mistakes.
Why so cheap, you're wondering?
We want to say we're nice guys at Manuscript. (Which in our "unbiased" opinion is true)
But jokes aside, we believe in delivering value first!
Because by receiving great value from us, you will naturally decide to engage us for any of our other programs or writing services. Or at the very least, refer us to someone you know.
Your Alternatives & Options
To be honest with you, there are many other copywriting programs available. In fact, there are several online courses you could sign up for.
Why... you could even read up blogs and articles about copywriting.
But it doesn't change the fact that a mentor or a coach is instrumental in creating results.
That's why any decent sports team will naturally pay their coach generously.
Without a doubt, the coach is there to spot and identify mistakes and guide them to become better.
Copywriting is no different!
We didn't design this workshop just to be another training program but rather to be a coaching program where you will write out your FB ad copy.
Right there and then.
Think about it this way - $12 is a small investment for most business owners. If you're in BNI, this is way less than a slot in your weekly morning breakfast meeting.  And even if you're not, $12 is about the price of a Starbucks coffee plus a sandwich.
Those are small investments which most people will conveniently forget about within the hour.
But this small investment could make a massive difference in your ads writing.
Suddenly, you will have the clarity and ideas for writing a persuasive ad copy to get the link clicks you want.
Why not come down and see for yourself.
FB Ad Copywriting Course Wait List
Sincerely,
Jonathan Seet, Founder of Manuscript
Frequently Asked Questions (FAQ)
What will I get by the end of the session?
Ultimately, we'll be coaching you on a few key elements of Facebook ad copywriting. Given the limited time frame, we can't cover every strategy available.
That said, it's not all theory as you're encouraged to actually work on your ad copy as there are plenty of exercise time to put what you learn into practice. The goal is for you to complete an ad copy before the end of the session.
Does this mean I need to bring a laptop?
While that is ideal, because of the room dynamics and logistical reasons, there won't be any table available for you to put your laptop. Instead, we suggest bringing a tablet, mobile device, or some writing pad to take note and work on your copy.
Why is there a fee to attend this copywriting course?
While it is reasonable to charge a few hundred for the session, we're only asking for a small nominal fee to cover the cost of your seat and some other administrative charges.
We like to stress that this isn't another preview or seminar where you attend and listen to some theoretical speech. Instead, you'll find that we're providing a proper group coaching session where you'll work on creating an FB ad copy you can use in your next campaign.
Will there be an upsell at the end of the session?
Quite frankly, most preview and seminar trainers include an upsell as it is a reasonable way for them to recoup the cost of advertising and room rental. That's partly one of the reasons why we have an admin fee to offset some of these charges.
That's all nice and good but surely there must be a catch somewhere.
Definitely, we're running a business after all. But what makes us different from other training providers is we provide copywriting services and marketing consultation on top of our coaching sessions.
Part of the reason for conducting this coaching session is to showcase our technical knowledge and abilities. Because by proving we're experts in our field and providing amazing value to our participants, we know you'll be more likely to join our other programs or services.